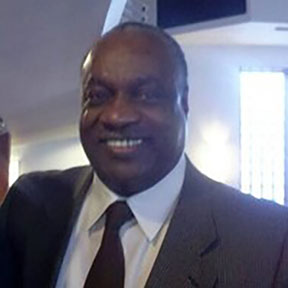 On the creation of the Black Student Union...
"There were more Blacks coming to the university. There were more Blacks coming in with a different attitude and a stride to university. We wanted to cater to that group, but not lose those folks that have been following us before. We wanted to bring in a different consciousness to what we were doing and to what was going on across United States. We felt that the conversion from the name of C.O.R.E. We had some things to build, so we decided to change the name to the Black Student Union [BSU]."
Interview with Bobby McLeod (1967-1969)
Interview Date: August 3, 2021
Interviewer: Francena Turner
Method: Zoom recording
Length: 72:43 minutes
Transcription software: otter.ai
Transcription edited by: Helen Zipporah & Francena Turner
NARRATOR BIO: Originally from Washington, DC, Bobby McLeod transferred  to the University of Maryland, College Park in 1967 from what is now the University of Sioux City located in South Dakota where he played football.. A business major, he left in 1969 to work and take care of his family. After working at a newspaper, doing some community organizing, and serving a presidential appointment to the U.S. Department of Commerce, McLeod currently serves as the CEO of both SpringWater One, Inc. (a company he started in 1980) and Homegrower, Inc. While at UMD, McLeod was a member of CORE and  the first elected president of the Black Student Union. 
KEYWORDS: Washington, DC, University of Sioux Falls, Earl Wynn, CORE, Robert Blandford, Josie Bass, University of Maryland, Eastern Shore, segregation, Bowmore NC, Hayward "Woody" Farrar, Stamp Student Union, Police harassment, Home Economics Study protest, Kene Holliday, U.S. Department of Commerce, Office of Minority Business Enterprise, Plumb Grant, entrepreneurship, Black student retention, Black faculty recruitment. 
 [0:02] Francena Turner:  My name is Francena Turner, and I'm interviewing Bobby McLeod for the Reparative Histories and the Black Experience at UMD Oral History Project. Mr. McLeod, I want to start first with what is your hometown?
[0:19] Bobby McLeod: I'm from Washington D.C. I graduated from Roosevelt High School and went to college in South Dakota for two years on a football scholarship.
[0:37] Francena Turner: What is your birthday?
[0:40] Bobby McLeod: April 28, 1947.
[0:45] Francena Turner: I know that you transferred into Maryland. But if you could talk to me a little bit about your life prior to coming into UMD in terms of your family composition, your home community, thoughts on education, that kind of thing. 
[1:02] Bobby McLeod: My mother and father met and married in Washington, D.C. Seven kids. We lived on Jefferson Street where I think there's one other Black family that moved on that block. At the elementary school that I went to, I don't think I had any Black teachers when I started. There are more equal Blacks and white in the school. So it was that kind of upbringing. We were in a middle class type of neighborhood. My father was an engineer with GSA [General Services Administration]in the federal government; my mother stayed at home. We had some advantages in our neighborhood. The deputy mayor, which was a Black guy, lived not a couple of blocks down. Doctors, lawyers lived in the neighborhood. So that kind of environment, upbringing for me. 
[2:20] Francena Turner: Was attending college sort of a foregone conclusion for you and your siblings or did you feel you had a choice of whether you wanted to go or not?
[2:32] Bobby McLeod: Yeah, I knew I wanted to go to college. My father was also a minister and he was a hard-working guy. And my mother, they were both from North Carolina. We weren't really sat down and said, "Well, you know, here's how you develop your life, your goals and plans and so forth. You go to college, get good grades in your study," that type of thing. I sort of grew up watching my friends and neighbors and what was going on. So, when I was in high school I'd seem to have a pretty good life. Teachers seem to have seen something in me. They helped me.  I don't know if I was just showing I was just trying to do more, I wanted more. I don't know what they saw but I took advantage of whatever opportunities were given me. I wanted to go to college because all my friends wanted to go to college but I didn't know what it took to get there and I knew I didn't have money to get there, so I had to play football. 
So Junior High, I started playing in the playgrounds and got a little name. Tried for the high school team, got cut. That made me more determined. (laughs) So I did get on in that same season. My high school coach was a white coach and he was determined to try to get as many of his team members, guys that played for him, in school and he was very successful at that. I had two or three offers. One was from Boston University and I decided that's where I wanted to go. They fill out the applications, transcripts in the high school counselor's office. The Alumni Association of Boston started entertaining me, taking me out, yada, yada, building my head up and I just felt great. I was gonna be their starting center. Then I found that in late July, early August, I got a notice from Boston that they had not received my transfer of grades, no official transcripts. When we checked into it, the counselor at my high school apologized, admitted his alcoholism. They just didn't send it so I couldn't go to Boston and it was very heartbreaking. 
But my high school had some other schools that were late entry applicants. So the school out in Sioux Falls, South Dakota, they were interested. I had an acceptance right away. I guess they thought they were getting on some big deal that was going to go to Boston University and here this guy was going to go to this small college in South Dakota, Baptist school. It's now Sioux Falls University. So they were very happy about that. My father went up with me. I guess they sent him some money or something, I don't know. There was some deal but my father didn't have time to do anything, have money to do anything so we took the train up there. When I got off the train the school band was there and school president, everybody, the mayor, this type of thing. Put my father up in a hotel, me in a dorm, and it was a big deal. There was one other Black kid from Nebraska, he was my roommate. I don't know how much you want, in detail. 
For the full transcript, please email university archivist, Lae'l Hughes-Watkins at laelhwat@umd.edu.