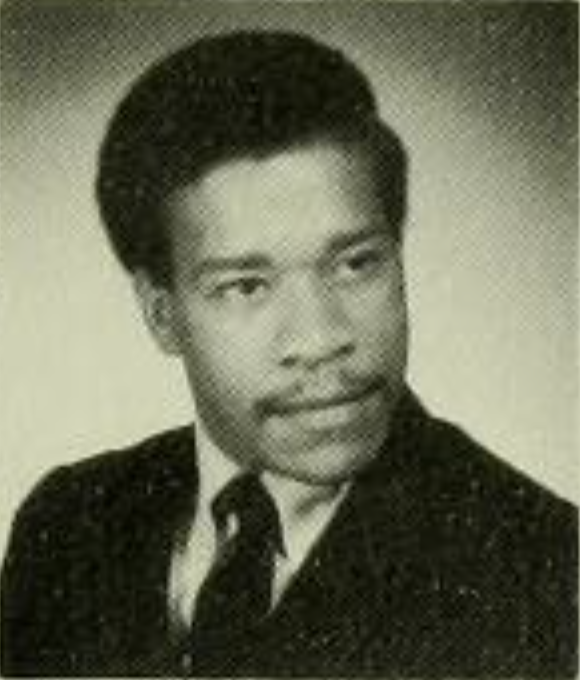 On finding joy in the midst of pain...
"I didn't attend my graduation. I had them to mail me my diploma. I had no desire to be a part of that university any longer. Like I said, it was a great deal of pain there. And that's what I remember–the pain. There wasn't much pleasure other than the people I was working with. My good friend, Kene Holliday…we were in theater together. So that gave me great joy. To be creative, to take your frustrations out in other arenas."
Interview with Earl Wynn (1965-1969)
Interview Date: August 11, 2021
Interviewer: Francena Turner
Method: Phone
Length: 54:20 minutes
Transcription software: otter.ai
Transcription edited by: Francena Turner
NARRATOR BIO: Earl Wynn came to the University of Maryland from Blackstone, Virginia in 1965.He graduated in 1969 with a degree in economics and political science.. While a student at UMD, Wynn was the president of the Congress of Racial Equality (CORE). In concert with Bobby McLeod, Robert Blandford, and Josie Bass, Wynn was a part of its transition into the institution's first Black Student Union (BSU) in 1969. Wynn went on to lead theater productions, promote concerts, and work in leadership in various organizations such as Housing Opportunity Made Equal.  
KEYWORDS: Blackstone, VA, Baltimore, Maryland, Great Migration, fraternity rush, Congress of Racial Equality (CORE), Black Student Union (BSU), housing discrimination, fair housing, Students for a Democratic Society (SDS), Floyd McKissick, Roger Meersman, Dianne Hacker, Marian Rosen, Kene Holliday, Allen Lee, Action Coordinating Committee to End Segregation (ACCESS), First Baptist Church, student protest, student organizing, Lorraine Hansberry, Robert (Bob) Nemirhoff, Robert (Bob) Blandford, Bobby McLeod, Housing Opportunity Made Equal (HOME), Richmond, VA, concert promoting, Lt. Collins 
SPEAKERS: Earl Wynn, Francena Turner
Earl Wynn  00:01
Can you hear me now? 
Francena Turner  00:02
Yes. 
Earl Wynn 00:03
Okay, good. 
Francena Turner  00:04
Okay. Thank you for agreeing to do the interview with me for our Reparative Histories, the Black experience at UMD Oral History Project. Mr. Wynn, what's your hometown?
Earl Wynn  00:20
I live in Washington DC. I'm originally from a little town in southwest Virginia called Blackstone. I grew up in Baltimore, Maryland.
Francena Turner  00:37
So, you've kind of been all over the DMV.
Earl Wynn 00:40
Well, my family was part of the great migration from the South to the North, you know, back in the day? 
Francena Turner  00:48
Yes. When's your birthday?
Earl Wynn  00:52
November 1944.
Francena Turner 00:57
Could you talk to me a little bit about your life prior to coming to the University of Maryland?
Earl Wynn 01:04
Well, yes, I'll start with high school. I went to a high school called Baltimore City College High School, which was a college prep school, all boys school, predominantly Jewish, Italian, and a few cool Polish people going there, and a few Blacks. I was one of the few. And I became quite friendly with the Jewish guys who were at my school because I kind of lived on the fringes of the neighborhood that they were coming from. When I graduated, all of my friends who happen to be Jewish, we're going to the University of Maryland. All of my friends who happen to be Black, seems as though they were going to Morgan State or Virginia State College–historical Black colleges. I went to the University of Maryland, because I thought it would be cool to be with my Jewish friends, only to get there and find out after the first couple of weeks when they were having fraternity rush (which I attended some of their celebrations) and everyone looked at me as though I was out of place because I was usually the only… I wasn't usually, I was the only Black that was at fraternity rush. And that's when I got the feeling of abandonment by my Jewish friends who I was real tight with in high school.  When I got to college, it was kind of like I was a person non grata. But that's how I ended up at the University of Maryland.
Francena Turner 02:59
Can you tell me a little bit about your parents or your guardians background? 
Earl Wynn 03:08
My mother was a very smart woman. She too, was from Blackstone, Virginia. However, she grew up during the period of time when Blacks could only go to the ninth grade. They called it, I think, the Blackstone Normal Training School. So consequently, even though she was a very intelligent woman, and a very good artist, too, she didn't have the resources to go to another city, so that she could finish high school and go on to college. So, she became a waitress, and that's what she did for most of her life. Never made over $1 an hour, excluding tips. She was a very good singer. I would put her up there with Mahalia Jackson in terms of songs. Very much a Christian lady. My father grew up in the same town. Same situation. When he got to the ninth grade, that was the end of school for him. He became a truck driver never earned over $2 an hour. But, at some point in life, the two of them separated, they never divorced. My mother moved to Baltimore. And so that's how I ended up in Baltimore. And my father ended up continuing to live in Blackstone, Virginia.
Francena Turner  04:53
You told me a little about how you came to enroll at the University of Maryland. But how did you come to decide what you were going had a major in?
Earl Wynn 05:02
Well, I've always had an interest in finance. I had some uncles. One had a bar and nightclub in Baltimore. His name was Joseph Knight. And he was also very good friend of Joe Lewis, the famous boxer. I had an opportunity to rub elbows with him. That same uncle also owned a funeral home. And my part time job there was to wash the family cars, the ambulance, etc., and the hearse, and get it prepared for funerals. I had another uncle who was in what they call the numbers business in Baltimore, and it was my responsibility to count the coins and the dollar bills that he took in on a daily basis from his number business–which was illegal at the time, the numbers business that is, until the state of Maryland found fit to legalize. But you have to have a store in order to be able to sell the numbers. And if you were a person of color, you were considered to be an outlaw if you were doing the numbers business illegally. I had a part time job working in the nightclub as a bar boy. That is, you supplied the bar with ice and clean glasses etc. I worked in the kitchen helping to do prep work, I ran the barbecue stand that he also had–one of them had outside of the nightclub. I guess you might say I've always been a hustler all my life and I learned that from them. I decided to major in economics and Poly Sci when I went to the University of Maryland. I've always had an interest in politics, and I've also always had an interest in money since I came from a not so well to do background financially.
Francena Turner  07:34
You talked to me a little about kind of how you experienced the campus in the first couple of weeks. But do you remember what it was like to walk on campus for the very first time as a freshman?
Earl Wynn  07:45
Well, some of it was kind of stupid, from my perspective, because I've always acted older than my age. When you're growing up and your parents are separated, it requires you to be an adult and make your own decisions somewhat. The first thing they wanted me to do when I got on campus was to wear a beanie to signify that I was a freshman. And of course, they would make fun of you during that period of time. But I never wore the beanie and refused to do so. That's what it felt like. What it feels like now…I don't get a warm and fuzzy feeling when I go to the University of Maryland. And it often makes me wish that I had gone to a historical Black college instead of going there considering my experiences. My friends that I went to high school with and relatives as well who went to historical black colleges, one of their great traditions is homecoming. They always look forward to going to homecoming. You know, you got to do it up, right when you show up for homecoming. It's always a big deal. But at the University of Maryland…The first time I went to homecoming in my freshman year I was sitting in a section. It seemed like I was the only Black person in the stadium at that time and I got into a fight with a white guy who was sitting behind me, and he poured Coca Cola on my new suede jacket. Because, quote, he said they "didn't want any n***** sitting" in the section that they were in. We got into a fight that that was my first homecoming and my last homecoming. It was a rude awakening, the situation I put myself in. I felt like I was in a deep deep south.
For the full transcript, please email university archivist, Lae'l Hughes-Watkins at laelhwat@umd.edu.