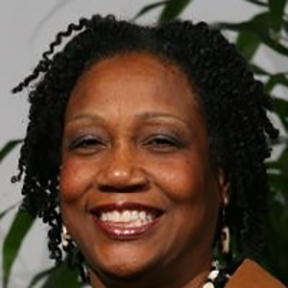 On the lack of representation...
"I know some students may have had issues with name calling; I never had that. I never had that. I just felt sometimes very isolated. You didn't have that many…there were hardly any Black professors at that time and no Black counselors. It was just not a good environment. That's why I think the BSU and other organizations–Nyumburu started the next year–were very welcoming."
Interview with Patricia Wheeler (1968-1973)
Interview Date: September 4, 2021
Interviewer: Francena Turner
Method: Zoom recording
Length: 72:55 minutes
Transcription software: otter.ai
Transcription edited by: Barbara Angier & Francena Turner 
NARRATOR BIO:  Patricia Wheeler came to the University of Maryland, College Park from Washington, DC in 1968. She graduated in 1973 with a journalism degree. She earned an MBA in 1981 from Columbia Business School. Over her career, Wheeler worked in radio, print media, television broadcasting, and consultant work in Washington D.C., Maryland, Virginia, Oregon, and New York. Wheeler also worked in communications for both the Washington D.C. mayor's office and the White House. She also taught public relations and marketing courses at Howard, American, and Morgan State Universities. Wheeler retired from Morgan State University in 2017 and continues strategic communications and public relations consulting. She continues to mentor many of her former students and she volunteers with the National Museum of African American History and Culture and the Washington, DC Black History Committee. While at UMD, Wheeler was a student activist and the founding editor and architect of the Black Explosion newspaper and a member of the Black Student Union (BSU) and People Active in Community Efforts (PACE). 
KEYWORDS: Washington, D.C. College of Journalism, Black Student Union (BSU), People Active in Community Efforts (PACE), commuter, Nyumburu Cultural Center, Intensive Educational Development (IED) Program, Argus, Maryland Media, censorship, The Awakening, Alex Haley, Louis Farrakhan, Mike Fribush, Chris Young, police brutality, Prince George's County Police, Frances Mary Berry, Black Studies, Black student retention, Black student recruitment, University of Maryland, Eastern Shore (UMES), American University, Howard University, Columbia Business School, Washington Daily News, Washington Star, NBC Channel 4, Mel Hollis, Terence Cooper. 
Francena Turner Speaker  0:01  
My name is Francena Turner and I'm conducting an interview with Patricia Wheeler for the reparative histories and the Black Experience Oral History project. Tell me your name at the time that you attended University of Maryland. Was your last name Wheeler?
Patricia Wheeler 0:21  
Yes. 
Francena Turner 0:23  
What's your hometown?
Patricia Wheeler  0:25  
Washington DC
Francena Turner 0:29  
When is your birthday? You don't have to provide the year.
Patricia Wheeler 0:32  
December 29.
Francena Turner  0:33  
Mine is December 20th.
Patricia Wheeler  0:36  
Oh, happy birthday. Well, you're not a Capricorn. You're Sagittarius.
Francena Turner 0:39  
I was this close. How would you describe your life prior to enrolling at the University of Maryland?
Patricia Wheeler  0:48  
Oh, that's a big open question. 
Francena Turner 0:53
I mean, in terms of family composition, your home community.  What was your community's philosophy on higher education, things of that nature?
Patricia Wheeler 1:04  
I grew up in DC. My father's a DC native. My mother moved up from Atlanta, Georgia when she was three. My father was a graduate from Armstrong, my mother from Dunbar.  She went to DC Teachers. She was a teacher and a principal. So there was no doubt that we were going to go to college. I have one sister. She went to Russia first; went to Hampton. Didn't like it. Transferred to Cornell. I really wanted to go to Lincoln University in Pennsylvania. They had just started accepting women and I got accepted. But the tuition was very high. And I was accepted at the University of Maryland.  At the time, even though I was out of state, tuition was pretty reasonable. I mean, compared to what it is now. I don't remember what it was. But it was under $1,000 a semester. So I went to UMD. My first year I commuted but my mother bought me a car that was part of the deal. I could commute to Maryland because I didn't get to go to Lincoln and my sister got to go away to college. But you know I went to McKinley High School, which is mostly Black.  I went to Catholic school early on, and it was mixed with Black and white folks – elementary school, although more probably more. The University of Maryland was just a little bit of a shock. I think I was prepared for what I was going into, if not fully prepared. Nobody is ever fully prepared for an environment like that. And back then it was definitely not what it is now. There was a lot of hostility. My first semester there they still had on Fraternity Row a house with a Confederate flag hanging on the front of their building. So that gives you a little bit of an atmosphere. But yeah, I was having a good time enjoying McKinley. I loved my high school. I had some really great friends. So I keep in touch with them. I had lots of good, good times and Washington DC.
Francena Turner  3:27  
What year did you enroll at the University of Maryland? 
Patricia Wheeler 3:30
Francena Turner 3:32
How did you come to decide what you were going to major in?
Patricia Wheeler  3:39  
I started out majoring in English, because I thought I wanted to be a writer and journalist at the same time. I transferred from journalism my second year because of  the English thing. I wasn't getting it. I had been on the school newspaper back at McKinley. So I like writing. I always did really well in English, and I love to read. I knew my career path was going to be something to do with writing. And somehow journalism made a lot of sense for me.
Francena Turner 4:28  
I don't I'm not sure if I heard you correctly. Did you say you didn't go to orientation or you didn't have a good orientation?
Patricia Wheeler  4:34  
I did not go to orientation, believe it or not. They scheduled my orientation for a day when we were traveling. So they said they would reschedule it, but they never did. I never got to reschedule. They did a two day orientation, but I never got a two day orientation. But even at that, I think that wouldn't have been enough. I think years later, they started bringing students on for two weeks. I mean, some students – African American students.  I think that made a lot of sense. The first thing was to meet with advisors, who, by the way, aren't very good but that's another story. So anyway, I think my second year I changed my major to journalism.
Francena Turner 5:30  
If you could walk me through your memories of the first time you walked onto the campus as a new student.
Patricia Wheeler  5:37  
Oh, my goodness. It was overwhelming. It was big. It was scary. I didn't know where I was going. I saw seasoned white people. But well, it's so nice when you saw a Black person. Say hi. They were very friendly. But it was sort of intimidating. And it really was, until I found the Student Union. There was what they called the Black corner of the Student Union.  The commuters gathered and I met a lot of people. Several people from my high school went to Maryland. Also as commuters it was great to hook up with them. I didn't feel the hostility that was underneath at first. But it was just different. Nobody jumps out and calls you names or anything like that.  At least that initially. What you just sort of feel is lost and a little isolated. I don't know, I guess I hope that helps explain it.
For the full transcript, please email university archivist, Lae'l Hughes-Watkins at laelhwat@umd.edu.