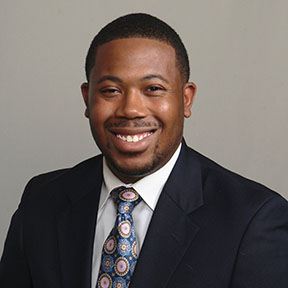 On becoming involved on campus via upperclassmen mentorship
"My freshman year, I got involved in the Black Student Union through a program called CMB, Campus Mentoring Bigs. You get a match with the upperclassmen that's your big or your mentor, that helps you navigate college life and helps to point you in the direction of resources, if you need to have classes or anything else is going on. My big was actually the vice president of the Black Student Union. He got me involved in their freshman Council, which I think was really good with integrating you into campus life. That's how I got involved with the Black Student Union. And then from my years on, I always stayed involved, and then eventually joined the executive board. "
."
Interview with Frank Nasir, Jr. (2003-2007)
Interview Date: November 4, 2021
Interviewer: Francena Turner
Method: Zoom recording
Length: 26:03 minutes
Transcription software: otter.ai
Transcription edited by: Francena Turner
NARRATOR BIO: Frank Nasir Jr. came to the University of Maryland, College Park from Philadelphia, PA in 2003 and graduated in 2007 with a degree in finance. Nasir went on to work for JP Morgan for a decade before entering entrepreneurship in real estate. While at UMD, Nasir was a leader in the Black Student Union, Phi Beta Sigma Fraternity, Inc., and the Black Business Association. 
KEYWORDS: Stamp Student Union, Black Student Union (BSU, Dorchester Hall, Montgomery Hall, resident assistant, the Courtyards Apartments, Phi Beta Sigma Fraternity, Inc., Panhellenic Council, Black Business Association (BBA), Campus Mentoring Bigs (CMB), Dl. Hughley, Kanye West, Black Alliance Network (BAN), African Student Association (ASA), Caribbean Student Association (CSA), the Commons, Divine 9, Black Greek Letter Organizations (BGLO), Student Events & Entertainment (SEE), Office of Multi-ethnic Student Exeprience (OMSE), Keisha Roberson, Making Ourselves Heard (Project MOSH), African American Studies, JP Morgan, entrepreneurship, real estate 
Francena Turner  00:04
Okay, my name is Francena Turner, and I'm conducting an oral history interview for the Reparative Histories and Black Experience at the University of Maryland Oral History Project. Could you pronounce your first and last name for me?
Frank Nasir, Jr.  00:19
Sure. First name's Frank. Last name's Nasir, Jr.. N-A-S-I-R.
Francena Turner  00:23
Could you tell me the years you entered and graduated from Maryland?
Frank Nasir, Jr.  00:29
I started at the University of Maryland in 2003 and matriculated in 2007. 
Francena Turner  00:36
What's your hometown?
Frank Nasir, Jr.  00:38
Philadelphia, Pennsylvania. 
Francena Turner  00:42
How would you describe your life before you decided to enroll in the University of Maryland in terms of family composition, hometown, and that kind of thing?
Frank Nasir, Jr.  00:51
I come from Philadelphia. It was a big town. I grew up primarily with my mother and my sister, so  I would say in a single family, single parent home. I went to a predominantly African American Catholic school, from second to eighth grade. In high school, I went to a magnet high school that was rather diverse, between African Americans, whites, Latinos, Asians–it was a really diverse high school. It was a large high school of about 2500 to 3000 students. I have a pretty close, tight knit family. So between me and my sister on my mother's side, as well as my aunts, uncles, and grandparents, we have a pretty close relationship. I would say I have a close, tight knit extended family, as well as immediate family on my mother's side. 
Francena Turner  01:57
Would you say that your attending college was a foregone conclusion?  How did your family feel about higher education?
Frank Nasir, Jr.  02:03
I would say yes, the way I was raised, that it was a foregone conclusion–specifically from my mom–that I would go to a good high school and go to college. I think that was what was expected of me. And then, because of what she instilled in us, it was expected from my grandparents, because they already saw the track that we were on. 
Francena Turner  02:25
What does your mom do for a living? 
Frank Nasir, Jr.  02:29
She does accounting, and she works in education on the  accounting side but for the School District of Philadelphia. She has been in accounting and finance, for her whole career, through different industries. She was in the insurance industry for most of her career, and she switched over to education. She's been doing that for about 15 years. 
Francena Turner  02:53
How did you make the decision to come to the University of Maryland?
Frank Nasir, Jr.  02:57
I think I mentioned I went to a diverse high school, also a large high school. Coming from a big city, I wanted ao university, or college that was pretty large in size, because it was what I was used to. It would also allow me to also expand my horizons and see and experience different things culturally, academically, even athletically.  I wanted to go to a school with sports. And also I wanted to go to a school to have diversity. I did have the idea of potentially going to HBCU but I wasn't 100% set. I prefer to have a good African American population but still have diversity and experience other things. Maryland at the time was perfect for me having, I think around that time, probably a Black population around 12%–or maybe 6%–I'm not sure. It was, I think, about 4000 or something students that were African American. It almost gave you a small HBCU inside of a major institution.
Francena Turner  04:05
How did you come to choose your major and what was your major?
Frank Nasir, Jr.  04:09
My major was finance. Coming in, I thought I wanted to do law, but we didn't have a pre law or law track at Maryland. So you had the idea to major in something else and if you still want to do law after, you can take the LSAT. I've always been interested in numbers or being a math guy, so I think finance was the best choice and the Smith School was ranked pretty highly and it was challenging and difficult to get in if you didn't apply directly there. When I first came in the first semester it was Letters and Sciences; I was pretty much undeclared. Within the first semester, I knew I wanted to do finance. So I took that track.
Francena Turner  04:52
And you were able to get into your major?
Frank Nasir, Jr.  04:55
Yes. 
Francena Turner  04:56
Can you take me through your memories of the first time you saw the campus as an incoming student? What were those feelings like?
Frank Nasir, Jr.  05:09
I didn't visit Maryland before actually coming, like a physical visit. My first time coming was during summer orientation, after I was accepted and registered. I love the campus, I thought it was huge. We had great facilities. It was just a different experience. Even the Student Union and all that. I was pretty excited too when I first saw the campus, and in that summer, and just also meeting individuals during summer orientation for freshmen. They also had, at nighttime, a lot going on–a chill session or a roundtable session with the Black Student Union. I think that was a great opportunity for those individuals that were coming from all walks of life that were African American to see what it's like to be on a big campus  at a predominately white institution and how to properly carry yourselves and how to integrate and also just understand what was going on and be prepared for when you start in the fall.
For the full transcript, please email university archivist, Lae'l Hughes-Watkins at laelhwat@umd.edu.